PEC selects Honeywell UOP Technology for its world-scale Aromatics plant
2nd December 2021
Malaysia-based Pengerang Energy Complex Sdn Bhd (PEC) selects Honeywell UOP technology for its world-scale Aromatics plant in Johor, Malaysia.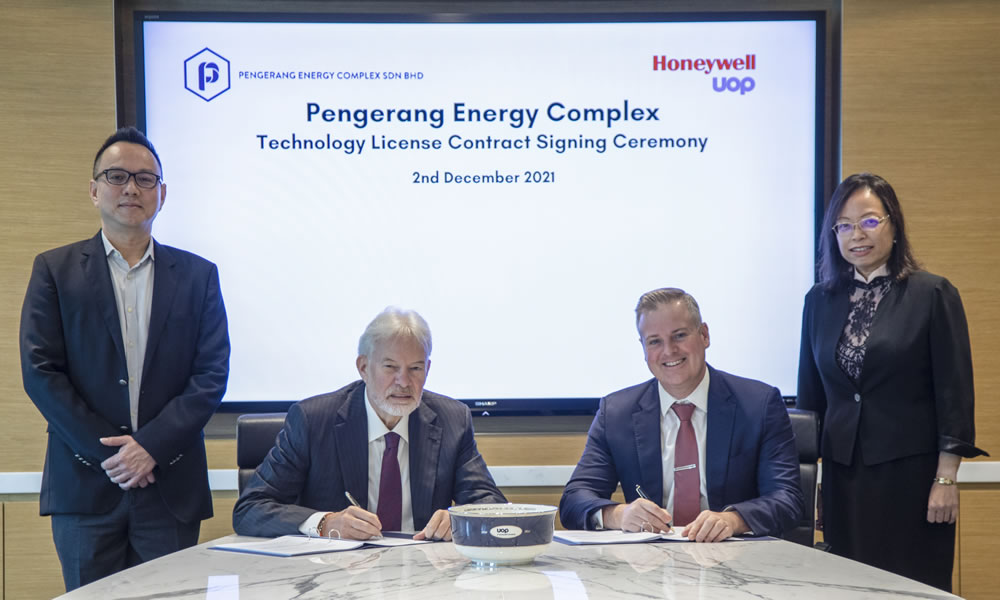 Pengerang Energy Complex Sdn Bhd (PEC) today announced that it has awarded Honeywell UOP a technology licensing contract for its world scale Greenfield Integrated Condensate Splitter & Aromatics Complex located in Johor, Malaysia.
PEC will utilize Honeywell UOP's latest generation LD Parex technology. The LD Parex scheme utilizes toluene as a desorbent in place of an expensive p-deb (heavy desorbent) stream. The light desorbent scheme enables significant simplification in fractionation units which is one of the major drivers in reduction in both CapEx and Opex with emphases on fuel reduction consumption per MT of PX produced. UOP's latest LD Parex scheme utilizes the best adsorbent system in the market in ADS-50 and uses the most efficient and reliable heat intensification methods in the industry. These advanced technologies will maximise aromatics products, lower capital and energy costs and allow for wider feedstock flexibility, including processing various blends of US (Permian Basin), Middle East and Australian condensates.
The 6.5 million tonnes per annum (mtpa) facility will have a processing capacity of 150,000 barrels per day (bpd) of condensate plus side feed of naphtha, 2.3 mtpa of aromatics products; 3.9 mtpa of energy products and 50,000 mtpa of hydrogen. The condensate splitter will produce heavy naphtha, a primary feedstock for the aromatics plant whereas the hydrogen produced is planned to be used to develop a downstream renewable fuels facility in Johor.
The salient features of the design include optimized energy efficiency, equipment size minimization and significant reduction in emissions meeting International Financial Corporation's (IFC) performance standards. PEC aims to build a world class facility that will lead to economic growth, environmental protection, and social progress for the current generation without compromising the potential of future generations to have an ecosystem which meets their needs.
PEC is estimated to require the use of US$800 to US$900 million worth of Malaysian-made content and catalyse additional investments of US$500 to US$600 million for associated infrastructure, storage and other facilities.
The project is developed by Singapore-based ChemOne Group, a project-development company with more than 40 years of experience as owners, managers, and developers of projects in petrochemicals and performance materials, natural resources, and green energy sectors across Asia. The target operational date for the facility is in late 2025.
PEC's CEO Mr. Alwyn Bowden said the company was excited to announce significant progress on its ground-breaking project.
"We are delighted to partner with our trusted colleagues at Honeywell UOP for this mega greenfield development. With the petrochemical market set to pick up further, PEC is poised to deliver profitable growth while creating local employment and moving Malaysia further up the value chain in the petrochemical sector," he added.
"We're extremely pleased to be able to support the realisation of PEC and ChemOne Group's visionary plans for this significant project in Malaysia. We are proud to play a role in the expansion and enhancement of the petrochemical industry in the country," said Matt Spalding, Vice-President and General Manager, Honeywell UOP Asia.
About PEC:
Pengerang Energy Complex Sdn Bhd (PEC) is a Greenfield aromatics owner and developer established in Malaysia to develop and operate one of the largest and most competitive Aromatics Plants in the World, to be located in the strategic Pengerang Refinery and Petrochemicals hub in Johor, Malaysia, at the tip of the Malaysian Peninsula and directly opposite the City State of Singapore, sharing its attributes as a central trading hub and deepwater port.